Hi, it's Frank Prieto here…
I'd like to show you how my clients manage to stay active on social media, 7 days a week without lifting a finger.
If you're like most acupuncturists I know, you don't have the time to update your social media pages with freshly curated and relevant content on a regular basis – let alone every day.
So I'm going to show you how we do it for our clients so you can determine if this is right for you too.
Social media has matured into a viable branding and referral opportunity for acupuncturists – IF you know how to do it right.
But even if you know how to do it right, there is still a major problem with social media… It's VERY time consuming.
It's very time consuming because…
You have to find the right content

You have to make sure the source of the curated content is reputable

And you have to make sure the curated content is on websites that provide a good user experience
Today I want to tell you about our social media daily posting service for acupuncturists that does all the grunt work for you, so you can focus on what you do best.
Here's what it is…
We post on your behalf, 10 posts per week on your Facebook business page and LinkedIn news feed.
We post relevant content having to do with alternative medicine, acupuncture, medical news, fitness, yoga, nutrition, exercise, healthy recipes, and an occasional light post that appeals to the population in general.
We don't just post a link by itself… Every post gets an intro because this helps engage users…
Every post is accompanied by an image which is even more important than the intro blurb.
When someone leaves a comment on a post, you receive a Facebook notification so you can reply or Like the comment.
We don't comment or reply on your behalf. Our job is to find, schedule and post relevant content with a brief intro on your Facebook and LinkedIn profiles, 7 days a week (Monday through Sunday).
That gets you 10 fresh postings on Facebook, and LinkedIn every week.
How long would it take you to curate 10 pieces of relevant content every week without fail and post them on Facebook and LinkedIn – 7 days a week?
This would be a painstaking and time consuming task if you tried to do it yourself every single day, Monday through Sunday – week in and week out.
Here are some interesting results from a survey of 500 small businesses performed by Vertical Response, an online marketing firm.
Small businesses:
• Are spending more time doing social media and investing more money into it at a faster rate.
• But the extra work is leading to time management issues, especially for the small business owner who's handling social media on top of all the other responsibilities of running their business.
• 43% spend 6 or more hours per week while 25% spend from 6 to 10 hours a week on social media.
• My favorite and the reason I created this service for acupuncturists… Respondents reported that finding and posting content to their social networks is the most time-consuming, while answering questions posted on social media is the least time-consuming.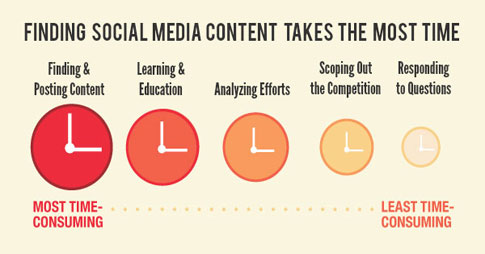 I know you realize that doing all this yourself is very time consuming.
I also know you're busy and probably have other things to attend to right now, so I'm going to wrap this up now and give you two good reasons why you shouldn't put off the decision to jump on this today.

First, this done-for-you social media service, allows you to share fresh, informative and educational content on Facebook and LinkedIn on a daily basis, without you lifting a finger because we do all the grunt work for you.
…and SECONDLY, it's affordable!
So here's the deal…
If you care about having an active presence on social media, by keeping your Facebook page and LinkedIn news feed updated with freshly curated and relevant posts on a daily basis, then click on the 'Sign Up Now' button below and lock-in the price at $97/month before it goes up.
Today: $97/mo.
New Price: $128/mo.

There are no contracts and no gimmicks, and you can cancel at any time – No questions asked.
Avoid disappointment and lock-in the price today before it's too late.
Thank you for your time!
Sincerely,
Frank Prieto
Marketing Strategist
AcuMarketing.com
PS:

"If you're comparing two service providers and all things being equal, you click on to their Facebook pages and see that one hasn't shared a post in two years, but the other has a news feed that's updated on a regular basis with informative and educational content, which one would you call first?"
Today: $97/mo.
New Price: $128/mo.
Q – How can I trust the content you are posting on my behalf will represent me and my practice in a professional manner?

A – We have been doing acupuncture marketing for over 16 years and understand the demographics of your target audience and how to market to them. We first tested the service with some picky acupuncturists, and they loved it because the content is relevant, engaging, and keeps them active on the social media networks without having to spend endless hours doing the work.

Q – Can I approve the content before it gets posted on the social media sites?

A – Yes, but that option is only available by upgrading to the next level at $297/month. Frankly, we don't encourage it because the postings get delayed until you have time to approve them. This is very simple, don't make it complicated.

Q – Can I cancel at any time?

A – Yes… Just send us an e-mail before the next billing date and we'll cancel your subscription and stop billing your credit card immediately.

Q – Can I get a refund if I'm not happy with the service?

A – You can cancel ANY time and we will stop billing your credit card immediately, but we don't issue refunds because all the work is done and scheduled in advance. This ensures we have enough time to curate the right content and have it posted on schedule.

Q – Can I select what time of the day I want the content posted?

A –The first posting of the day takes place at mid day and the second in the evening. We chose these times because they provide the highest user engagement. If you want special posting hours you'll need to upgrade to the next level at $297/month, but in reality the mid day and evening times are fine.

Q – Do you need the passwords to my social media sites to set this up?

A – Not for Facebook. You just need to make me an admin of your Facebook business page. If you don't have a Facebook page, we'll show you how to create one – it's very easy. We do however need your passwords to set up your LinkedIn account. After you sign up you'll be taken to an encrypted web form so you can provide your LinkedIn login credentials securely. Once we've set you up in the system you can change the passwords if you wish.


Q – Do you answer questions or reply to my audiences' questions or comments on the social media sites?

A – No, we post the relevant and engaging content on your behalf so you can interact with your audience by answering questions or replying to comments when necessary. Most times a simple Like on a Facebook comment is sufficient. All the heavy lifting is done by us, but engaging with your audience should really be done by you – and should be done in a timely manner, usually within 24 hours.

Q – Do I really need to do all this social media stuff?

A – In today's environment you need to do it if you want to be active on social media. Social media is not going to solve all your marketing problems, but there is no question it is an important factor in the mix. While SEO (search engine optimization) and PPC Advertising (Google Ads) are still the most effective ways to generate new patient leads, social media supports those efforts in generating referrals, retaining patients and branding your practice. This daily social media posts service for acupuncturists is our entry level program. The high level stuff is here.


Q – Can I pause the service for a week or two while I'm on vacation?

A – Yes, but the billing will continue as usual and there is no credit for that time period due to the nature of the service. Sorry.

Q – If I cancel and then sign up again, will I pay the same price as before?

A – You can sign up again any time at the current price at that time.
Today: $97/mo.
New Price: $128/mo.