"Are You Frustrated Because You're a Darn Good Acupuncturist, But You Struggle to Attract New Patients on a Regular Basis?"
"If the Answer is YES, then Keep Reading Because my Turn-Key Acupuncture Marketing System May Work for You Too."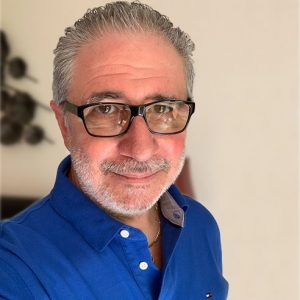 Dear Practitioner, if you're struggling to acquire new patients on a regular basis, this could be the most exciting message you've read in a long time.
Hi, my name is Frank Prieto. I'm a marketing strategist who is better known in the TCM community as the father of Christina Prieto, a successful acupuncturist who built her dream practice using my response based marketing system.
If you struggle with marketing and have difficulty attracting new patients on a steady and ongoing basis I think I can help you.
I'll start by telling you that my daughter's success as an acupuncturist was no random act of luck, nor was she born with a silver spoon in her mouth. In fact, when she first started out, she was a struggling practitioner barely earning enough to make ends meet.
There were days when she actually questioned whether she was ever going to get on her feet and make a real living doing what she loved most. When we'd talk on the phone, she'd share with me her utter frustration, but at the same time was reluctant to ask for my help because she's very independent and wanted to make it on her own.
So I used a little reverse psychology and weaseled my way into convincing her to letting me do her marketing. I explained to her that we would both benefit a great deal, but that I would have the most to gain because I would use her as a guinea pig to acquire first hand insight into an acupuncture business.
I told her that doing her marketing would allow me to build a robust lead generation system for acupuncturists like no other one out there.
As they say in the movies… "The rest is history…"
Her practice started to take off, and today she has a successful and rewarding acupuncture business that allows her to travel the world and live life on her own terms.
She helps patients improve their health through acupuncture and gets incredible satisfaction when her fertility patients get pregnant and express their gratitude for her part in it.
When I ask her how are things? She smiles and says; Dad… it just doesn't get any better than this! — For me?… Well, that's how I become known as the acupuncture marketing strategist.
What would it be like for you, if you didn't have to worry about the marketing?
With my acupuncture marketing system there are no books to read, no seminars to attend and no coaching fees to pay. It's all done-for-you so you can focus on patient care and have more free time to do what you love most.
After 3 or 4 years of graduating from acupuncture school, many acupuncturists are struggling. Some will even say there aren't enough patients to go around. Others are ready to take on a second job, and in worse cases there are those who have moved on to do something else because they just couldn't make ends meet. This is very sad, but the fact is it doesn't have to be this way if you understand that the secret to your success is in the marketing.
If you need help starting an acupuncture practice – or you've been in business for a while and want to take your practice to the next level, you're in the right place because I'm going to show you what you need to do to start making real money in your acupuncture business in less time you ever thought possible. You will generate a steady flow of new patients every week so your practice can grow exponentially and you can enjoy what you love most without the pressure of financial uncertainty.
Why Am I qualified to make these claims?
Ten years ago when my daughter told me she wanted to be an acupuncturist. I tried talking her out of it because I felt she could make more money as a nurse. I talked to her about the shortage of nurses and how hospitals were paying signing bonuses to get nurses to join their institutions. No matter what I said, I was getting no where. The truth of course is, I was wrong – dead wrong! Like the good acupuncturist she was determined to become, she fired back with her views on the medical establishment… She said she believed, among many other things, that alternative medicine was very effective in treating many conditions and ailments without all the side effects of prescription drugs, and that she was committed to this alternative form of health care. Today she has a successful acupuncture clinic in Orlando, FL and only accepts new patients who are coping with fertility issues because it's what she enjoys treating the most.
What is the secret to her success?
I put in place an acupuncture lead generation system that runs on auto-pilot, that she didn't have to create, maintain or monitor… It makes her phone ring with qualified leads on a weekly basis, so she can focus on running her practice and making money providing patients with quality alternative health care – and I can do the same for you.
"Nothing makes a bad product fail faster than a great advertising campaign." ~ Bill Bernbach
That is a notable quote by William (Bill) Bernbach (1911-1982) in a 1965 interview with the Wall Street Journal. Bill Bernbach was an American advertising creative director, and one of the three founders in 1949 of the international advertising agency Doyle, Dane, Bernbach (DDB). I share that quote with you to illustrate an important point that is critical to your success. My marketing system has been instrumental in my daughter's success, but her knowledge of TCM, compassion, bedside manners and hard work, have been equally important. There's no amount of marketing in the world that will make it happen for you if you don't love what you do.
Why other marketing methods don't work as well…
The reason why many of the other marketing solutions don't work for acupuncturists, is not so much they are flawed, but that they require your time and commitment to implement them. Reading a book from a website that sells acupuncture marketing supplies, or attending an acupuncture marketing seminar is not a bad idea. The problem lies in whether you are disciplined enough to make the time, or even have the time, to implement and follow through what you've learned.
If you're like most acupuncturists, you hate marketing and you wish you didn't have to deal with it. You prefer to spend your time treating and helping patients which is what you really love to do. On the other hand, if you had a marketing system in place that generates qualified new patient leads 24/7 on auto-pilot, you can make a lot more money because your time is better spent seeing more new patients every single week instead of spending time doing community events or chasing doctors and chiropractors begging them to refer patients to you.
How to increase your patient load from 15 or 20 to 50 or more per week.
If you're seeing an average of 50 patients a week you're doing something right. You're probably ready to put on a second acupuncturist, or even better– add a third or fourth treatment room. On the other hand, if you've been practicing for 2 or 3 years and you can't seem to break past the 15 or 20 patient a week mark, you are not alone. It is not uncommon for many acupuncturists to get stuck at this point. If you can answer yes to the following questions, I can help you increase your acupuncture business dramatically.
Are you a licensed acupuncturist? (2,000 hours of acupuncture and Chinese medicine education).
Do you practice full time?
Do you have your own location or do you rent a treatment room inside someone else's clinic?
Is your phone answered live or do your calls go to voice mail?
Do you offer an in-person Free Consultation?
Do you accept credit cards?
If you answered YES to all or most of these questions, I think I can help you take your practice to the next level, so you can earn the income you deserve. You can make a good living as an acupuncturist and enjoy a rewarding life by making a difference in people's lives, but it doesn't happen by accident.
What nobody ever tells you about marketing…
Did you know that marketing and advertising is a SCIENCE, that when applied correctly with its proven formulas can achieve quantifiable results for your practice? Most ad agencies, design studios, and graphic/web designers will have you believe that marketing and advertising is an ART. Not so!
There are two schools of thought on marketing…Those that view marketing as an art will try to sell you on Branding, or what is referred to as "Image Advertising". Branding is based on creating an image (a brand) that becomes recognized and trusted by consumers. Their philosophy here is to spend your budget on getting your name out there so new patients come knocking down your door. Branding is effective if you have deep pockets like McDonald's, Nike and Coca Cola, but the other 85% of small businesses cannot afford to spend on branding because it's too expensive.
On the other hand, Response Based marketing (also known as Direct Marketing) uses a scientific approach to advertising. By understanding human behavior and how we think, you can communicate a clear, direct and compelling marketing message that separates you from your competition so you become the obvious choice.
The secret formula revealed… Get The FREE Report today!
Response Based marketing is accountable because it can be tested and tracked to know if it's working or not – and the cost is a fraction of what you'd pay for Branding. This approach combined with the scientific advertising formula delivers dramatic and quantifiable results.

To learn more about Scientific Advertising and the secret formula behind this marketing method, enter your name and email on the right to get The FREE Report titled: MARKETING STRATEGIES: Which Ones Actually Work and Which Ones Are Guaranteed to Wipe Out Your Budget, Cripple Your Growth and Jeopardize Your Future.

After reading my special report you'll understand the method behind my system and why it works. Updated and revised – Third edition… Get it today!
OK Frank, get to the point… I want the details…
You're probably wondering what this marketing system exactly consist of. Well, I'm going to tell you now, but first let me say that the greatest, single, most important benefit of my acupuncture online marketing program is that you don't have to worry about marketing because it's all done for you.
INTRODUCING The Systematized Acupuncture Marketing Program Where Everything Is Done For You…
No advertising books to read

No marketing coaching fees

No marketing seminars to attend

No acupuncture websites to design

No networking required
"Hi Frank, Just wanted to send you a quick update. The system is working its beautiful magic, record new patients this week – 9 to be exact! Thanks for all your great work and hopefully I will get you some new clients too.

Danielle DeVivo, L.Ac.
Saratoga Springs, NY
* Disclaimer: In accordance with the FTC guidelines concerning the use of endorsements and testimonials in advertising, please be aware that the testimonials appearing on this site reflect real life experiences of those who have used our marketing services. However, they are individual results and results do vary from person to person and cannot be guaranteed.
How and why it works…
NewACUPatient$™ 2.0 is an online lead generating system that starts out by driving PPC traffic (pay-per-click ads) to a landing page. These ads are strategically written to capture the attention of patients searching for an acupuncturist in your area. This is the first step in the client acquisition process and when done correctly, it ensures your ad is not ignored.
The second step is just as crucial. Once they click on the ad they are sent to a landing page. This is where most everybody gets it wrong. Even some of the large national chains like Target make this costly mistake. Why would a major chain store send someone searching for the "Canon PowerShot SD1000 Digital Camera" to the website's home page, instead of the actual sales page of the product they're searching for? A home page is not a landing page or a sales page. Most home pages are all fluff, puffery and just have plain boring content about how great the company or individual is. Research shows that people will make a decision about your website in about 4 seconds. That's how long you have to capture their attention before they click the back button and say good bye forever. The truth is people don't care about you or your practice, until you show them you can solve their problem and give them a risk free offer to try you out. Until your marketing does that, you're just blowing your advertising dollars away.
A landing page continues the conversation going on inside your prospect's head. It has compelling information to further educate your prospect as to why you are the obvious choice among the other acupuncturists in your area – and why they should pick up the phone and call YOU instead. Some website visitors will call you and book an appointment (convert) right away, while others will remain in the fact-finding stage (prospects.) These prospects are not quite ready to see an acupuncturist just yet. Some will be evaluating whether they want to try acupuncture at all. Others may be afraid of needles and need a bit more time to make the call. They all have different reasons. Whatever the reason may be, this is where the third step comes in…
The follow up…
The third step is the follow up process. The nurturing of those undecided visitors (prospects,) to bring them closer to making the appointment (converting.) This is accomplished by staying in contact with them with an automated follow up system so once they're ready to make the move, you are the first practitioner– if not the only one, they remember.
Did you know that 80% of people who inquire about a product or service will buy it within a year of their initial inquiry? The amazing part is that 90% of the time they don't buy it from the same company they made the initial contact with. Some may convert in a week, others in a month, and some in 6 months or more. It boils down to ROI (return on investment.) You're paying to drive traffic to your landing page so you have to leverage your efforts to make sure that:
Your online ads are strategically sound to capture your prospect's attention

Your landing page has a compelling marketing message to convert those prospects to patients, and…

You have an automated follow up system in place to nurture and build a relationship with those still undecided to increase your conversion rate
This is how the system pays off for itself, and how you separate yourself and your acupuncture clinic from the competition and become the obvious choice. That's what good marketing is supposed to do. If your marketing isn't doing this, it's not working like it should and you should fix it before it's too late.
"Frank's ability to get results for his customer is guided by his ethics. He will protect you and himself while your business increases. At first I was concerned because I thought I would need to devote hours upon hours helping Frank create this Chiropractic website – like you have to do with most designers. But I was relieved when I found out that all the content is provided by him. I inserted my ideas to personalize my website, but all the content (he calls it strategy) was developed by him. The bottom line is now I get more new patients from the internet. I have a website created for a health professional with search engine optimization that attracts new patients on an ongoing basis.

Dr. Steven Goldfarb, D.C., C.A.
West Orange, NJ
"Dear Frank, I just wanted to take the time to say thank you. You have been like an angel sent to me. I have learned more in a few hours with you than I learned in many years of marketing classes and courses. You're teaching me real knowledge that can be applied immediately with immediate results. Not only are you helping me bring in new patients, you are saving me a ton of money in advertising by showing me what really works and what just drains my pockets.

The money I have spent with you I have saved tenfold by eliminating ineffective marketing. Who could of thought I could build up my business this easily? Your professionalism and genuinely caring personality are the cherry on top of the sundae! I know people sometimes complain about spending money on a service like this… but quite honestly I can't afford not to have your services.

By the way, today I saw 16 patients! That's my best day ever. From the bottom of my heart, THANKS!"

Kimberly Marin AP, RD
Davie, FL
"Frank has been our "web guy" for over a decade. His knowledge and comprehension in an ever changing landscape is second to none. We have experienced unexpected glitches and even hostile attacks on our web presence over the years, one as recent as a couple months ago, and Frank always manages to restore and restart our website within hours. I do not know how we would have gotten through quite a number of crises without him. His website optimization is cost effective and always yields excellent results. We highly recommend him."

Filiz Bakir – AP, DOM.
Fort Lauderdale, FL
"The time and money that I spent working on SEO and setting up a Google AdWords campaign with Frank Prieto is without question the most effective and efficient advertising investment that I have ever made. If you are considering hiring Frank as your marketing coach or to run your internet marketing campaign, I highly recommend that you do so. He is incredibly knowledgeable in his field and exceptionally generous with that knowledge.

Scot Taylor, L.Ac., Dipl.Ac., MSOM
San Antonio, TX
I SO totally appreciate all the information I get from you, my site and blog are positioned better than I could hope for, because of the information I've gotten from your course. Thank you for the great advice over these past 11 years, looking forward to your next move."

Dia Vickery, PhD (Theology), LAc
Tarzana, CA
FAQs – Answers to important questions you might have about

Q- Does the NewACUPatient$™ 2.0 system include a complete website?
A- Yes. When you subscribe to NewACUPatient$™ 2.0 your license agreement entitles you to a complete acupuncture marketing optimized website, personalized for you and your practice.
Q- Can I use my existing e-mail address with NewACUPatient$™ 2.0?
A- Yes. The e-mail address on the NewACUPatient$™ 2.0 websites forward to the e-mail address of your choice.
Q- Will my NewACUPatient$™ 2.0 subscription expire at some point?
A- No, you can use the NewACUPatient$™ 2.0 system for as long as you stay subscribed.
Q- Can I use NewACUPatient$™ 2.0 with my existing website?
A- No because most acupuncture websites are not strategically optimized for this kind of lead generating system. If you already have a website, we will backup your website files for safe keeping and restore it to it's original state if at any time you decide to cancel or not renew your NewACUPatient$™ 2.0 subscription.
Q- How do I pay for my NewACUPatient$™ 2.0 subscription?
A- The monthly subscription will be automatically charged to your credit card.
Q- Can I cancel my NewACUPatient$™ 2.0 subscription at any time?
A- If you're on the STANDARD plan and you feel that NewACUPatient$™ 2.0 is not for you, you can cancel your subscription at any time for any reason with no hassles and no questions asked. – The PRO and MASTER plans require a 6 or 12 month service-level agreement because there's a lot of initial heavy lifting on our end on those two plans. So, we qualify you in advance to ensure it's a good fit for you because we want to work with practitioners we can truly help. If we find a plan is not a good fit for you, I will let you know and provide you with other options.
Q- Are there any refunds on NewACUPatient$™ 2.0 subscription plans?
A- No, there are no refunds.
Q- If I cancel my NewACUPatient$™ 2.0 subscription can I use any part of it on my own website or marketing materials?
A- No, NewACUPatient$™ 2.0 is a proprietary strategic marketing system owned by Frank Prieto Strategic Marketing, Inc., available for use on a subscription basis. The content, strategies, wording, slogans, selling slants, tactics, and/or any part of it is protected by copyright law and unauthorized use is strictly prohibited.
Q- Once I subscribe how long do I have to wait before my NewACUPatient$™ 2.0 is in effect?
A- As soon as you subscribe the process begins. Your personalized system will be up and running generating qualified leads within 30 days from the day you subscribe.
Q- Are there any set up fees?
A- Not really… Your first month's subscription fee covers all the set up and customization work required for your individual practice.
Q- Is my monthly licensing fee subject to increases?
A- No. Once you subscribe, your licensing fee will not change for the life of the agreement. If you decide to postpone subscribing today and you return to this page in the future, you might find the prices have increased, but once you subscribe you lock-in the going rate at the time.
Q- Are there any additional costs I should budget for?
A- Yes, NewACUPatient$™ 2.0 PRO and MASTER plans are driven by PPC (pay-per-click) ads placed on Google and Bing (depending on the plan.) When a new patient clicks on your ad, your account gets charged for the click. You should budget about $400+/- per month for advertising. This is paid directly to Google and Facebook (depending on the plan.)
Q- Will I always have the pay per click charges?
A- Yes and No… In the beginning the traffic comes from the PPC ads. As we work on the search engine optimization, you will notice traffic also start coming from the organic listings. But I always recommend to keep running the PPC ads campaign for increased traffic. The more lines you have in the water, the more fish you'll catch. Same principle applies to online marketing.
Q- I'm concerned that I may not be able to afford the system. How do I know if this is for me?
A- NewACUPatient$™ 2.0 works very well, but it's not for everyone because it depends on a few factors that need to be in place. The best way to determine if NewACUPatient$™ 2.0 is right for you, is by applying for it here. Not every acupuncturist qualifies, but the ones that qualify do very well. The marketing system will deliver the leads, but how you run your practice is important too.
Q- Do I have to worry about another acupuncturist using NewACUPatient$™ 2.0 in my town or geographical area?
A- NewACUPatient$™ 2.0 PRO and MASTER plans come with exclusivity rights on a first-come first-served basis in local areas. Once you subscribe to PRO or MASTER, the subscription is restricted to your practice for as long as you maintain your subscription.
Q- How do you determine the geographical boundaries of a service area?
A- It depends on the area. In most metropolitan areas it is typically within a 5, 7 or 10 mile radius of the clinic. Rural areas can cover a wider area. The objective is to make sure you are not competing with another acupuncturist in your service area using NewACUPatient$™ 2.0. As a rule of thumb, any driving distance a patient considers too far to drive to see a practitioner is considered outside your area.
Q- How many new patients do I need to acquire before I start breaking even?
A- It depends on the NewACUPatient$™ 2.0 plan you choose and your location (metro vs rural.) If we use the PRO plan as an example, we can say that based on treatment costs of $95, acquiring one new patient per week (4/month) will get you to the break even point and beyond. That's revenue of about $1,520 per month because each patient will most likely get four treatments ($95 per treatment x four treatments = $380 x 4 patients = 1,520 per month.). This is taking into account your NewACUPatient$™ 2.0 subscription fee as well as your advertising costs. When you consider that every 1 in 4 patients refers someone, you can see how the system pays for itself. Keep in mind that this cycle is continuously taking place every week and one new patient per week is conservative. Most of our established clients are getting 4 to 7 new patients per week.
Q- What is the Life Time Value Of A Patient?
A- The life time value of a customer (patient) is a simple equation used in marketing to determine how much a patient is worth to your practice.
Q- How can I determine the Life Time Value of a patient?
A- The formula goes like this: (Average Value of a Sale) X (Number of Repeat Transactions) X (Average Retention Time in Months or Years for a Typical Customer/Patient). Using the figures from above, we can determine the life time value of an acupuncture patient as follows: (Average Value of a Sale: $95 per treatment x 4 treatments = $380) X (Number of Repeat Transactions: Comes in twice a year at $380 per visit = $760) X (Average Retention Time in Months or Years for a Typical Customer/Patient: She sticks around for 3 years at $760 per year = $2,280).
Q- What is Customer Acquisition Cost? (CAC)
A- The price you pay to acquire a new customer (patient.)
Q- How can I determine my Customer Acquisition Cost? (CAC)?
A- Divide the total costs associated with the acquisition by total new customers (patients,) within a specific time period. For example, acquiring 4 new patients using the PRO plan as an example, and assuming a $300 expense in click charges for the month, your cost to acquire a new patient is $249 ($695 + $300 = $995 divided by 4 new patients = $249.) Would you spend $249 to acquire a new patient? In order to answer that question you have to know the Life Time Value of a patient. We already determined based on this same example, that the LTV (life time value) of an acupuncture patient is $2,280. So I ask you again… Would you pay $249 to acquire a patient that is worth $2,280 to you? Of course you would! Keep in mind I'm using conservative numbers in this example. If you acquire 8 new patients per month, which is doable as the marketing gets more traction, you can see the potential and profit because your CAC drops dramatically and the difference goes in your pocket.
Q- Is NewACUPatient$™ 2.0 a finished project or is it continuously improving?
A- NewACUPatient$™ 2.0 is a proven lead generating system for acupuncturists producing quantifiable results, and is continuously improving as search technology on the internet advances.

Get Exclusive Rights To My Acupuncture Marketing System in Your Area…
NewACUPatient$™ 2.0 is a proven lead generating machine, but here's the icing on the cake… You get exclusive rights to use the system in your local service area because I only license it to one acupuncturist per local area.
If you qualify, you could be well on your way to making the real money an acupuncturist with systematized marketing can make. You'll have an auto-pilot marketing machine working for you 24/7 that allows you to do what you do best.
A turn-key system like this can be very expensive if you were to hire me to build it from scratch because it has many components and moving parts. On the other hand, it is equally costly if you were to try to create it yourself because it takes years to learn and master the science of marketing, not to mention the testing, fine tuning and ongoing improvement of all it's parts.
It's important to note that while NewACUPatient$™ 2.0 comes with a website, its not a website service. It's a lead generation system with built-in automation to get new acupuncture patients in the door on a steady and ongoing basis.
"Frank, starting my own business was a difficult decision. I was very passionate about what I do, but I had no experience in marketing. A chiropractor I know advised me to give you a call. I have to admit I was a little skeptical in the beginning to invest money into something that I was not sure was guaranteed. I am so glad that I did! Within the 1st month of your help, patients started rolling in. Each month that goes by, my patient (and profit) number gets greater and greater. Everything that you predicted would happen most certainly did, plus more. Frank you have been so helpful to me through everything. You are always there to answer any questions, and always give me superb advice. I will recommend you to any business owner who wants to be successful. I will always have you be a part of my business."

J. Catlett, A.P
Jacksonville, FL
"Frank, you rock!!!! Just so you know, your website and marketing are BLOWING ME UP!!!! my phone is ringing like crazy, more people are coming in from all over the place!!! they love the coupon, they love all the info on the site, and im so happy!! thank you!!!! its really amazing, you said it would take about a month, and your right…its just blowing up..so please keep doing whatever it is your doing…. BECAUSE ITS WORKING!!!!

PS– The most interesting thin… so many FEWER cancellations…i think people see more value in what i do now because of the site. I dont have to work as hard now to reschedule them or "stalk them"… they just show up, and come back. This week>>??? busiest ever… 106 (and Friday i still could add more, a few openings still) Thanks again."

Brad Whisnant, L.Ac.
St. Helens OR
"Thank you for providing me with excellent service and helping me double the number of patients I've been seeing. I couldn't have done it without the website you provided."

Dr. Hon K. Lee, L.Ac, Dipl.OM, DMQ, DAOM
Herndon, VA
"I recommend Frank to anyone who wants to grow their business. The web site consistently draws people to our clinic, 2-3 per month. It has paid for itself many times over. At first I had no idea if the website would even pay for itself, but I instantly liked Frank and trusted he could do the job. Frank is very conscientious if I call him he calls back with a solution immediately and he's a ball to work with. Anyone whose been in business a decade or longer will understand how hard it is to find a real person online. Most are spindoctors and people who over-promise. Frank is not a robot. He's a living, breathing passionate person who makes your project (i.e. marketing) his own.

Scott Paglia, L.Ac.
Bellingham, WA
We are an A2P 10DLC compliant agency, registered and verified with all the phone carriers to send messages, both text (SMS) and voice. All NewACUPatient$™ 2.0 websites are ADA compliant.


Safe, secure and easy way to enter your credit card without compromise. Billed monthly automatically to your credit card.

NOTE: NewACUPatient$™ 2.0 is available to only one acupuncturist in a local area. So if you're ready to take your practice to the next level, then don't delay and apply now because once the marketing system is claimed by another practitioner in your service area it'll be too late. If NewACUPatient$™ 2.0 is right for you, avoid disappointment and secure your territory today.
BONUS: 1hr Free Marketing Coaching Session With Me…
Subscribe today and you'll also get a FREE one-on-one acupuncture marketing coaching session with me. I'll help you kick start your marketing with tips, ideas and solutions to help you achieve your business goals this year. We'll discuss your current business situation and address your biggest challenges. You can use this bonus at the beginning, or 60 days into your subscription ($497 value.)
"Frank, yours is by far the best step-by-step marketing coaching I've seen! I can't thank you enough for everything that you've shared! You're the best!

Many thanks,"

Anca Marinescu, LAc
New York, NY
"Frank,
Your marketing work has made all the difference for me in 2008. Hearty THANK YOU!"

Warren Miles, A.P
Licensed Acupuncturist
Allentown, PA
My Promise to You…
I have a simple promise to make to you… If you're running your practice the way you're supposed to and you sign up for NewACUPatient$™ 2.0 (PRO or MASTER,) and after 90 days the marketing is not everything I've said it is and you're not seeing the results I talk about, you can continue the NewACUPatient$™ 2.0 subscription for another 60 days at no charge. If after those 60 days you still have not seen a transformation in your practice, then just cancel and owe me nothing else.
Why am I making you this promise? Because we will both know if the system is working for you or not, because everything is tracked and you'll have access to all the marketing metrics inside the dashboard. The calls are tracked and recorded, so we will both know if your phone is being answered live or if calls are constantly going to voicemail, or if your staff is saying the right things to get new patients in the door or fumbling the calls, and so on. Our job is to deliver you qualified leads and show you the proper way to get them in the door, but it is your job to close them. So, if you do your job I'll keep my promise.
That gives you an extra 60/120 days to evaluate NewACUPatient$™ 2.0 even further at no cost, other than the search engine click charges and SMS rate charges. That should give you plenty of time to determine if the system will work for you in the event it's taking longer than usual to ramp it up.
Is that fair? I hope you think so because I've been told it's more than fair. So, if by then NewACUPatient$™ has not transformed your acupuncture practice, simply cancel and owe me nothing else. Simple as that.
This is why we qualify potential clients beforehand, because we only want to work with practitioners we can truly help. The truth is we want you to stay a client for a long time because we don't make our money on the front end. There is a lot of work that goes into getting a marketing machine like NewACUPatient$™ 2.0 set up and running smoothly in 30 days, so we do our best to ensure that NewACUPatient$™ 2.0 is a good fit for you beforehand.
Do you know what the average churn rate in the marketing agency business is? – 3 months! That's how long clients stick around for most agencies. I have clients that have been with me for more than 10 years. – I'm very proud of that.
So what do you say?
If you want to automate your patient acquisition process to free up more of your time so you can do what you love most, click the button below to see if NewACUPatient$™ 2.0 is right for you. You have nothing to lose.

My singular goal is your success…
I've worked hard to make it apparent to you that there is a big change coming in your life if you subscribe to NewACUPatient$™ 2.0. This system has been delivering quantifiable results for acupuncturists since 2006 – and if you qualify, it will do the same for you too – producing exponential growth similar to the power of compounding interest.
You have a unique opportunity today to get exclusive rights to use this patient acquisition machine in your area that could help secure your financial future. Don't miss this opportunity to lock-in NewACUPatient$™ 2.0 in your local area today. Act now and grab it before it's too late.
To Your Continued Success,
Frank Prieto
Marketing Strategist
Creator of NewACUPatient$™ 2.0
PS: If you're considering signing up but you're not sure if NewACUPatient$™ 2.0 is right for you, please fill out this form so I can learn more about your situation. If I determine that NewACUPatient$™ is right for you, I will let you know, but if I find it's not a good fit for you, I will let you know too and recommend other options. You have nothing to lose.
"I've been working with Frank for over 7 years. He's helped me immensely with my local wellness clinic and my online business. When I work with Frank I feel that I have a solid and trustworthy team on my side. He is always thinking of ways to do things better for my business and works consistently to make sure that I am meeting my goals. I appreciate that he is accessible and answers my questions with detail and clarity. He's honest and takes responsibility for his role in my business development.

Because he works solely with natural health practitioners he knows our market needs and is also able to understand the common challenges of our business. I recommend his services, without hesitation."

 

Dr. Jeda Boughton
B.A., R.Ac., Dr. TCM, FABORM
Vancouver, BC Canada
"One of the best business decision I made this year was to hire Frank Prieto to do my online marketing. Here is the reason why I say it… Before I hired Frank, I had 3 websites for my business. One ranked page 5 on google, and the other page 8. One month after I hired Frank to do the seo and build the website, one website, with same key words, rank page one on google.

As far as I know, Frank is the best online marketing practitioner for our acupuncture profession in the English speaking world."
 
 

 
Dr. Guoen Wang
Licensed Acupuncturist & Herbalist
Austin, TX
"We have been using Frank Prieto's company to provide marketing advice and services to our Acupuncture clinic for the past 5 years. Since that time, we have seen a huge and consistent increase in new patients choosing our clinic for their health care needs. We consistently are at the top of the page when potential clients search the internet for acupuncture and Chinese Medicine in our area.

Frank has always treated us fairly and honestly for the many years he has served us. It's great that he specializes in marketing acupuncture. He is our one-stop shop for everything involving marketing, promotion and presenting a positive public company image for our clinic.

Thanks for everything Frank!!!"

Jon C.
Practice Manager
Overland Park,KS
"Hiring Frank was the best business decision I ever made. Frank has a great knowledge not just about marketing strategies but also the best way to do it on the web. Thanks to Frank my company survived during difficult times of recession. My practice got wide exposure on the web and a lot of new clients. I never met anybody who cared about my business as much as I do, Frank does."

Galina Semyonova, L.Ac., L.M.T.
New York, NY
We are an A2P 10DLC compliant agency, registered and verified with all the phone carriers to send messages, both text (SMS) and voice. All NewACUPatient$™ 2.0 websites are ADA compliant.


Safe, secure and easy way to enter your credit card without compromise. Billed monthly automatically to your credit card.

NOTE: NewACUPatient$™ 2.0 is available to only one acupuncturist in a local area. So if you're ready to take your practice to the next level, then don't delay and apply now because once the marketing system is claimed by another practitioner in your service area it'll be too late. If NewACUPatient$™ 2.0 is right for you, avoid disappointment and secure your territory today.

Frank Prieto Strategic Marketing, Inc
Home   •   About Us   •   Privacy Policy   •   Terms of Service   •   Contact Us   •   Sitemap   •   Accessibility Statement